Mason Jar Solar Light
Written and photographed by Sara of Bitz & Giggles
Hi everyone! I'm Sara from Bitz & Giggles and I am THRILLED to be over here on Smart School House today sharing a simple, super fun summer project for kids and adults alike! If you're like me, you've been up and down the aisles of your local stores checking out all of the fun summer and garden items retailers have out on display this year.
One of the items that caught my eye was a mason jar solar light, and I immediately thought, "I absolutely can make one of these. . .and I can make it even prettier!" I adore mason jar crafts to begin with and all I really needed to pick up from the store was a solar light and some tissue paper. I had the rest of the materials already at home.
Here's what you'll need to make your own:
Mason Jar Solar Light Materials:
Wide Mouth Mason Jar (Quart size)
Tissue paper 1-2 sheets (your choice of design)
Mod Podge
Paintbrush
Outdoor solar light
Super glue or other heavy-duty, waterproof adhesive that can stand up to the outdoor elements (not pictured)
I found some really fun tissue paper at Walmart with bright blues and greens. One of the papers almost looked like it was covered in fireworks and I thought it would be perfect for the summer! Start by cutting your tissue paper into small squares.
Because I wanted my light or lantern to be pretty bright when lit, I chose to cut up more of the pieces with the design on them since the paper was white, and then accented with pieces of the darker blue and green.
Get out your Mod Podge and start painting the inside of the mason jar, working on one area at a time, gluing your tissue paper pieces in place. Get creative! The design can be whatever you'd like it to be!
Continue until the entire jar is covered and feel free to pat down any loose tissue pieces with a little more Mod Podge just for good measure! Here's the part where you need to walk away for a bit to let your jar dry. Take the dog for a walk, put some laundry in or take the kids to the park. When you return, your masterpiece should be dry and ready for the next step!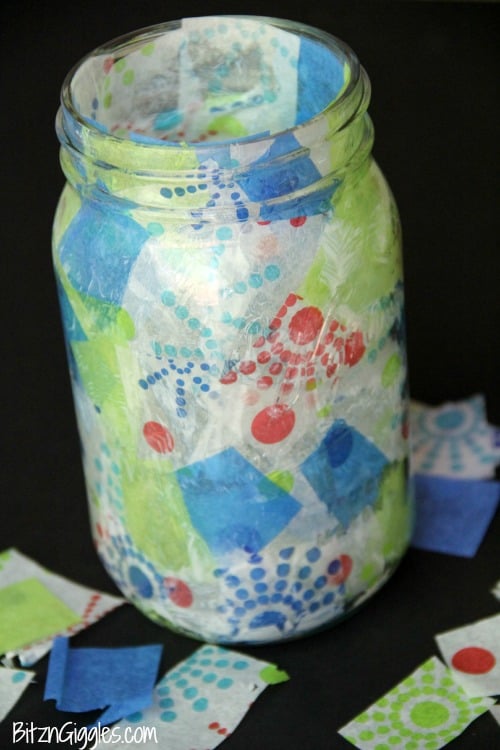 I'm sure a lot of you are wondering at this point what kind and size of solar light to buy. I went and found a wide mouth quart jar while I was at the store, put it in my cart and literally took it with me to the garden center where I knew I'd find the solar lights. I took a couple of the solar lights apart like shown below and placed the top of the light (the round part) into the opening of the jar.
My advice to you is to do the same to ensure a good fit. It's also a good idea to set the solar light outside in the sun to charge it up the day you decide to do the project.
When the inside of your jar is dry, take apart the solar light and fit the top of the light into the opening of the mason jar. Mine actually set in the jar perfectly and stayed on its own without any adhesive. I knew if I wanted it to last, though, I would need to seal it with a waterproof adhesive to keep the rain, etc. out.
I didn't glue the top of the solar light to the top of the jar until I knew everything was working, however. I took the finished jar and the top of the solar light into our bedroom closet (where it was dark) to make sure it was lighting up as it should before I got crazy with the glue. Once you start with the glue, there's no going back. Consider yourself warned. 😉
I love the way this mason jar solar light turned out. It looks great during the day and even more awesome at night when it's lit. Such an easy project with awesome results! These would be great to give as gifts or use as decorations for your next outdoor BBQ or deck party. Heck, place one or two next to your flowers in the garden or your front entry. The ideas are endless and I promise you will be delighted with the results!
Sara is a full-time marketing professional, wife to a self-proclaimed rock star and mom to a sweet little girl and very active little boy. When her husband is on the road and the kids are in bed, it's "her" time, and she spends it on photography, crafting, cooking, creating and connecting with others. Her blog, Bitz & Giggles, covers little "bitz" of everything, and is meant to inspire ~ bringing the best-of-the-best seasonal ideas, tips, recipes and more right to her readers. Join her for fun, deliciousness and laughs each and every week!
Connect with Sara here:
Twitter |  Instagram | Pinterest | Google+ | Facebook | Bloglovin'