Hey there everyone! It's Sara popping in again from over at Bitz & Giggles! I'm always so happy to come over to Smart School House to share some fun and creativity! I'm super pumped because there is absolutely no more snow in our yard, and the kids'  boots and snow pants are taking a timeout (hopefully a long one) for the next several months. Spring just makes me happy – it's the return of warmer weather, colorful flowers and ENERGY that you forgot you had inside of you. It's certainly a time for renewal and a time to refresh. I love to add pops of color to the house in Spring, and this month I had the perfect project in mind. I remember seeing this Stained Glass Art at my son's school years ago.
Stained Glass Art for Kids
 To prepare for it, however, the teachers were adding food coloring to empty condiment squirt bottles filled with glue and shaking them like crazy for what seemed like hours to get everything mixed. It looked like quite the process. I loved how their art turned out, but between you and me, that's just way too much work. I'm going to show you an easy way to achieve the same stained glass effect without all the muscle and prep.
You just add the glue and the food coloring separately. Glitter glue is translucent so when you hang your art, the sun will really make the colors shine. I also love the little specks of glitter sprinkled throughout! This project is so easy and affordable and the end result is quite breathtaking. This is so much fun for families to sit down and work on together!
So, first things first. Let's talk about the frame. I found some white 5×7 frames at Walmart. They had three left on the shelf so I grabbed one for my son, one for my daughter and, of course, one for me. There's no way I was missing out on the fun.
You want to begin by disassembling the frame. The cardboard back to the frame doesn't get used for the project so you can set it aside. Clean the glass with some glass cleaner and then place it inside the white frame. Once the frames are ready to go, cover your work surface. I used wax paper and newspapers on top of that. Then, I set out the glitter glue, toothpicks and food coloring, and called in the troops.
The kids had so much fun with this project. If you want to ensure the kiddos walk away with clean hands, you could always have them wear some plastic gloves. We braved it, and, believe it or not, the color they did get on their fingers came off pretty easily.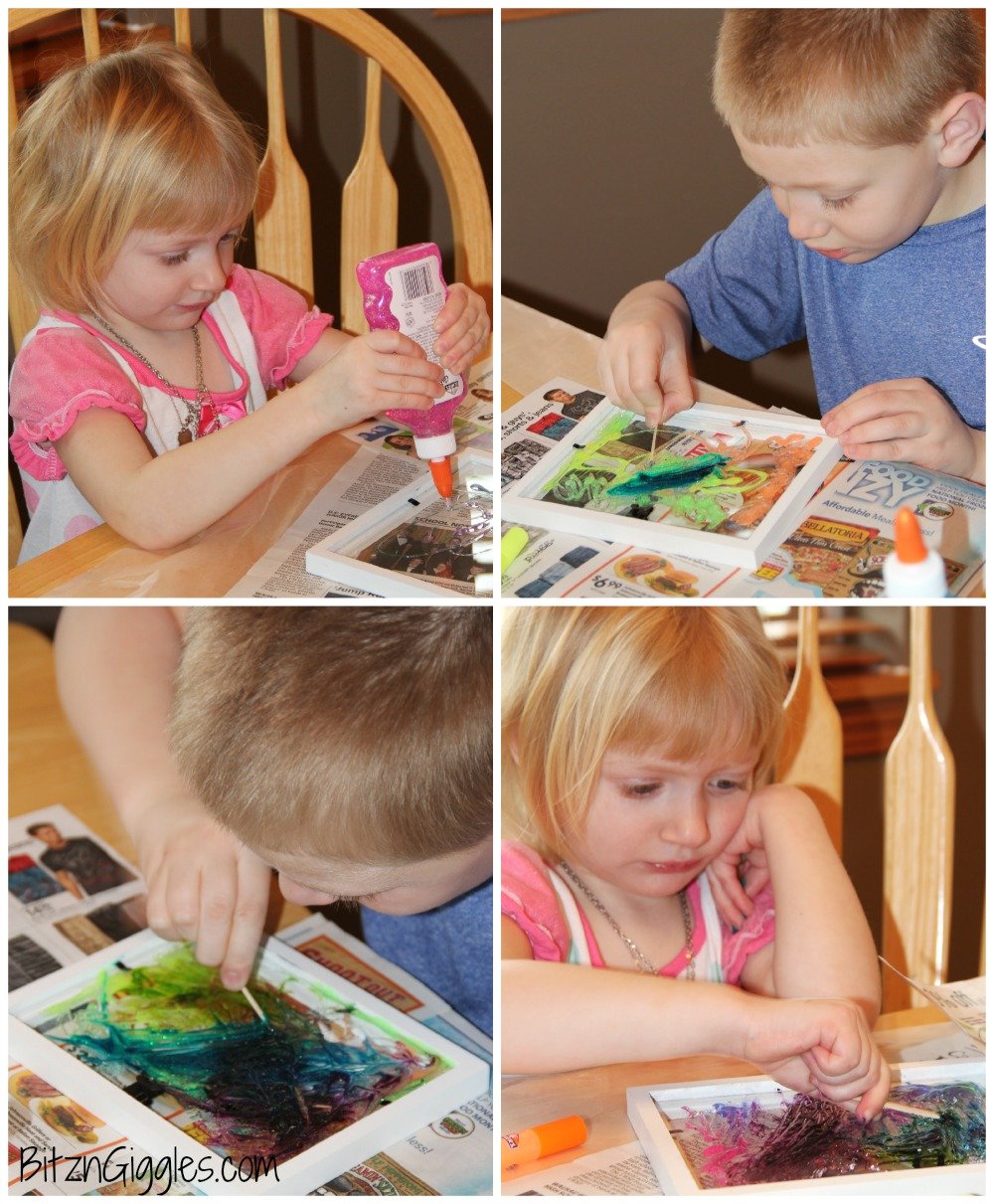 I love how these frames turned out. I adore all of the bright colors. They look beautiful hanging up on our patio door. If you look real close you can see bubbles, glitter and fine line designs. To give it a bit of a different look, you could use a paintbrush to create softer lines and blending.
Each frame will have a little bit different look to it. I love that. It's really a work of art. It becomes even more beautiful when you allow light to shine through. Isn't this a perfect project for Spring? I think so! I can't wait to hear how your frames turn out. Will you use two colors or five? Will you go with a black frame or a white one? I would love to hear about the little artists that helped you, too. As with anything glass, if you have little hands involved, just make sure the kids are supervised throughout the entire project.
More Arts and Crafts for Kids on Smart School House:
Stained Glass Art for Kids
How kids can make stained glass using glue and food coloring
Print Here
You Will Need
Glue (regular white glue or glitter glue)
Toothpicks or paint brushes
Food coloring (we used neon)
Picture frames (we used 5×7 frames)
Suction cup hangers (for hanging frames on your window later on – I found mine at Walmart)
Directions
Position your frame so you're painting on the back of it.
Squirt glue all over the frame. There is no rhyme or reason here. Add a little, add some more.
Add one drop of food coloring at a time to various parts of the frame. I wouldn't suggest putting all of the colors in one place or you'll just end up with a black puddle on your glass.
You can use a toothpick to blend the colors into each other and create some swirl or line designs. Here's where the kids can get real creative.
Once you're happy with your design, allow the glue to dry overnight.